Building plans for Shoeing Stocks
Plan A--A stock that can be moved (with a forklift or pulled by a truck)
Plan B--A stock that is installed permanently in one location--the corner posts set in the ground. This cannot be moved, but the advantages are that it is cheaper and easier to build, the animals may be more willing to go into it, and it cannot possibly tip over. This is the bettter option.
Both plans are from the measurements of Yoder's draft horse size stock, which has worked out fine for my 16 hh horse and my 17 hh draft mule.
If you are going to make your own stocks, rather than try to find the specialized hardware and chains, I actually think that using automobile seat belts is a good idea for the straps over the back, under the belly and behind the butt. They spread pressure over a wider area, they are strong, and they release quickly. Cheaply available in auto junkyards as well.
Plan A: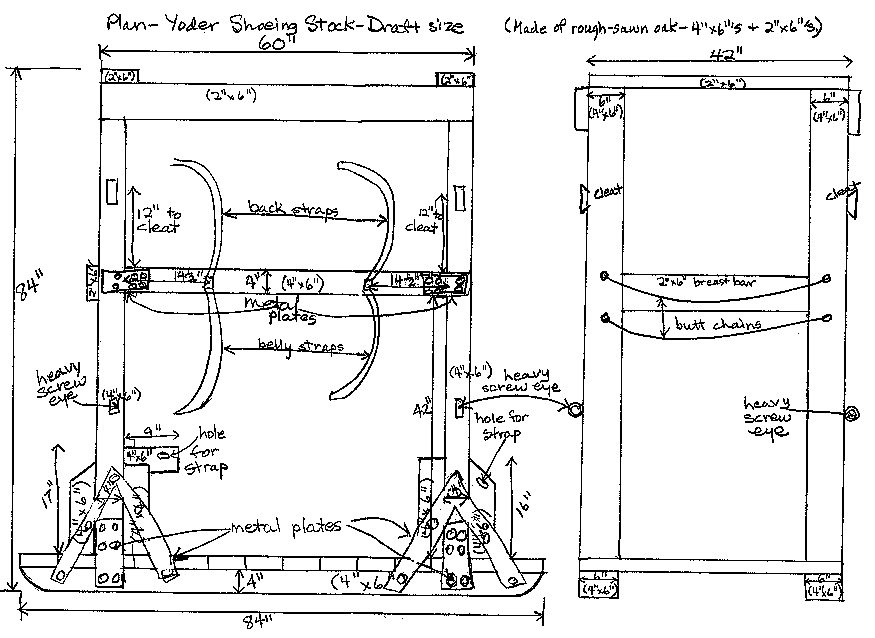 Plan B: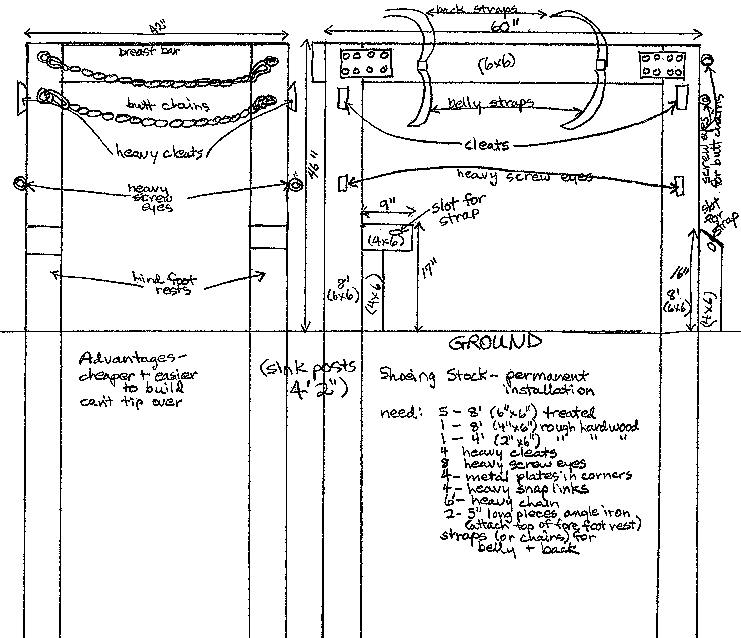 ---
Back to home page--Table of Contents
Article in sections with "thumbnail" photos for fastest downloads:
1 8 15
2 9 16
3 10 17
4 11 18
5 12 19
6 13 20
7 14 21
22 23 NAVICULAR
Article in sections with full-sized photos for print-outs:
1 8 15
2 9 16
3 10 17
4 11 18
5 12 19
6 13 20
7 14 21
22 23 NAVICULAR
To Strasser case studies--thumbnail photos for faster downloads
To Strasser case studies--large photos
Please sign my guest book! Photos of my pets My farm
Share Barefoot success stories on this page
Buy or sell used HORSE BOOTS Natural board Barn Listings

Click here to subscribe to naturalhorsetrim
(I strictly moderate this listserv to weed out "fluff.")
Send Email to Gretchen Fathauer, or call (740) 674-4492
---
Copyright by Gretchen Fathauer, 2013. All rights reserved.