BALANCE saddles have been designed to allow more freedom of movement for horses. This allows the horses to carry themselves better and to build up more muscling in the back and shoulders, rather than have the muscle wastage that overly tight saddles promote. Pressure points from ill-fitting saddles can actually reduce circulation enough to promote muscle wastage and deep bruising....perpetuating the "high, narrow withers" syndrome. BALANCE saddles, with their wider trees and padding system, allow freer movement in more comfort and enable better muscle development. Many problems, like stilted movement, bucking, bolting, stumbling, stiffness, high head carriage, on the forehand, etc., can be at least partially traced back to pain from ill-fitting saddles.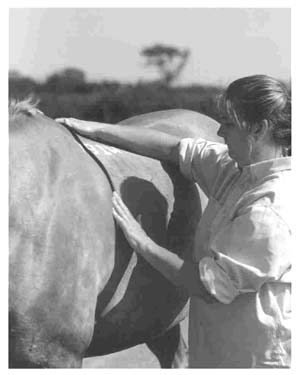 (Photo, BALANCE Int.)
Using a Variform to measure the shoulder muscling above; this is traced onto paper, as seen below: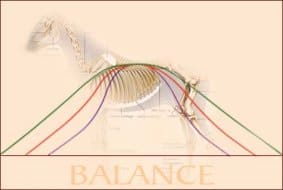 (Graphics, BALANCE Int.)
Measuring the muscling width is something that they do often at BALANCE Saddle Fitting clinics; horses who are comfortable in a particular saddle almost immediately have a wider shape. The reason for this is that the horse is now comfortable enough to improve his posture. Something similar is shown on the human equivalent of collection below: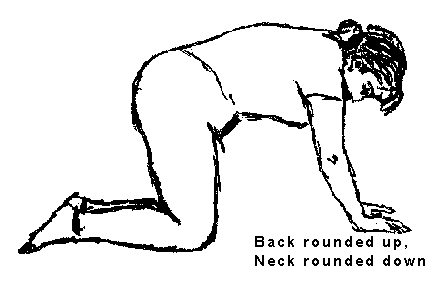 Compare with the human equivalent of a swayed back, along with a forced headset--notice how the back has flattened and is no longer filling up the "withers" area--a posture change is actually changing the shape of the back quite immediately: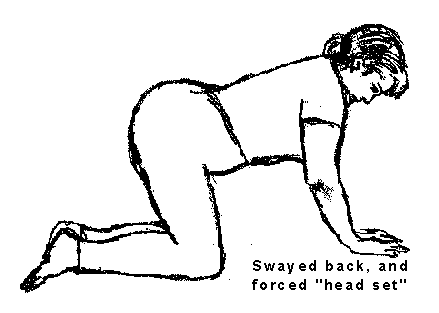 In order to allow room for the shoulders to move, BALANCE saddles have wider trees, and a special padding system that allows the saddle to sit balanced and not restrict the shoulders, even during movement: Further, they have larger weight-bearing panels for unrestricted muscle along the horse's back and shoulders.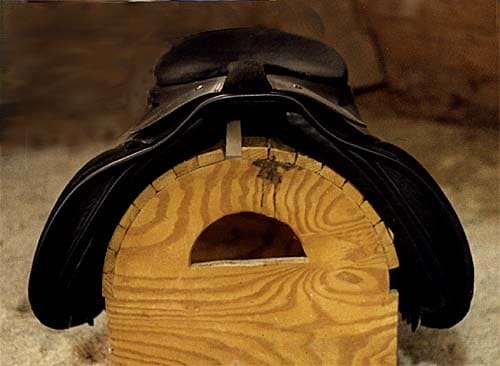 (BALANCE Soft Option saddle--note wide tree.)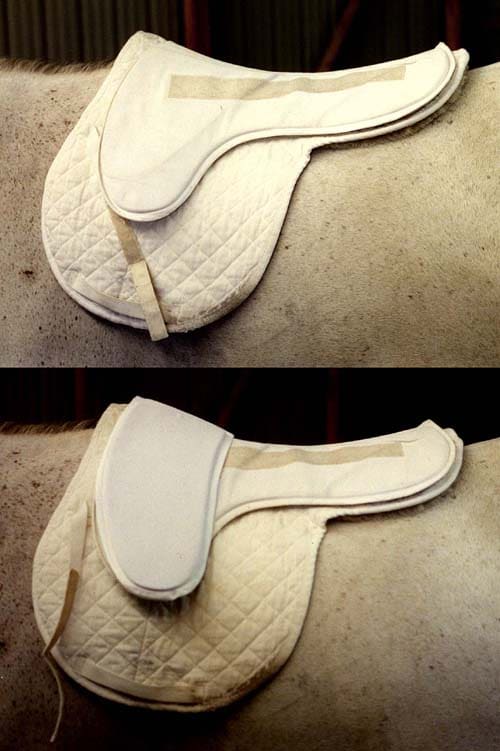 Showing a couple of options on the BALANCE saddle padding system; these pads Velcro together, and allow you to shim and balance the saddle. These shims and pads keep the saddle balanced while not constricting movement in the shoulders, as a tight, fixed tree will.
BALANCE saddles are available in the following constructions:
1. Free Spirit--full tree, large weight-bearing panels, reduced "points" in the front of the tree.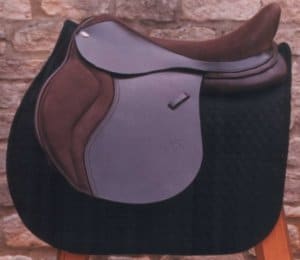 A photo showing "points" on a typical English saddle tree below. These points are reduced in the BALANCE Free Spirit.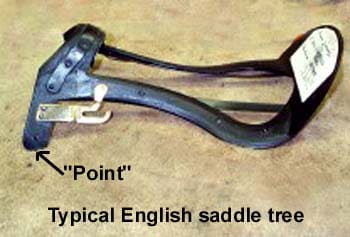 2. Zenith--full tree.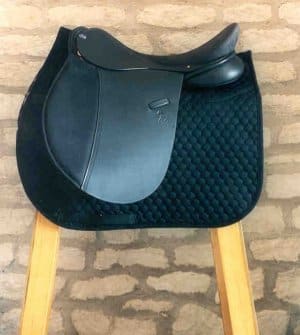 3. Matrix--full tree, NO points.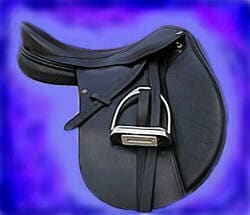 4. Soft Option--half-tree (better for donkeys and mules, who need straighter bars, as this saddle does not have full-length bars that rock on their backs.) The Arc tree version of this saddle is the best fit for extremely wide horses' backs.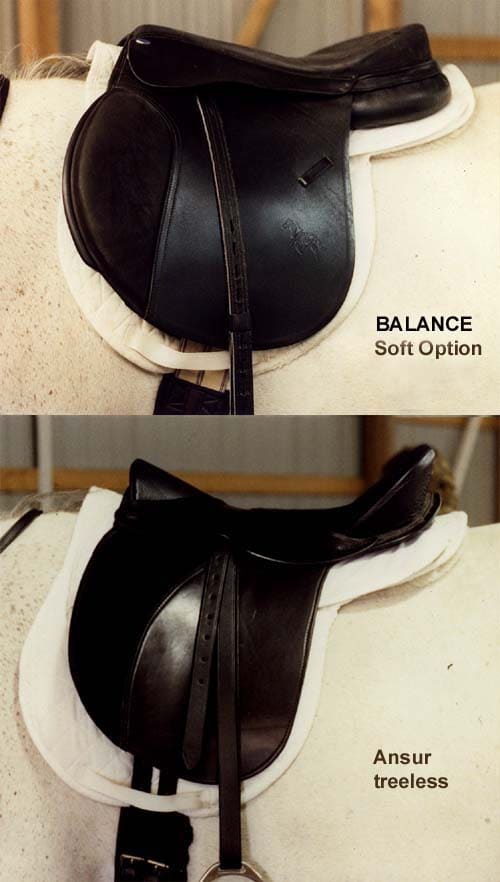 (Comparing the BALANCE Soft Option (half-tree) with the Ansur brand treeless saddle.)
Notice how the Soft Option has more spine and wither clearance than the Ansur: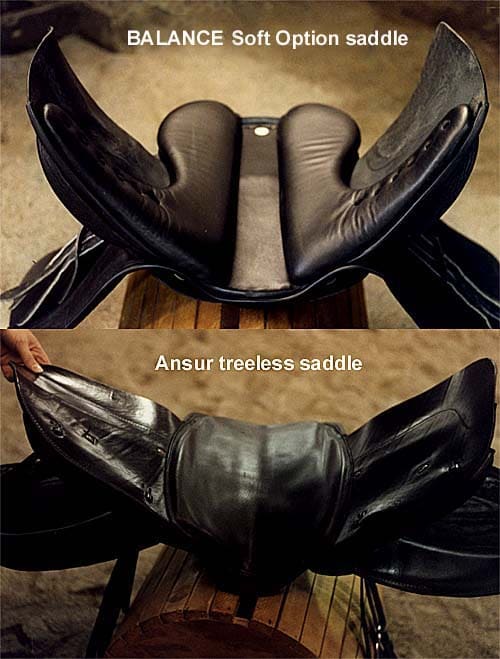 One of the founders of BALANCE International, Carol Brett, assisted by Lavinia Mitchell, at a saddle fitting clinic in Ohio, summer of 2001: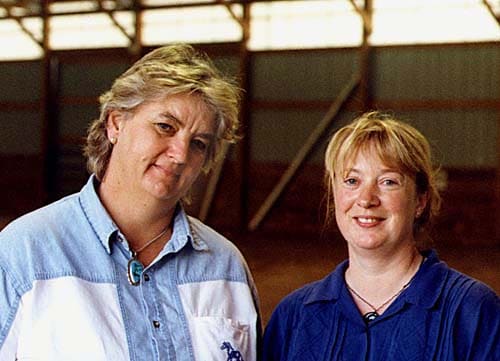 For more information: www.balanceinternational.com These saddles are made in England of top quality materials. They have saddle fitting clinics in several countries; check their web site for dates.
More contact info:
BALANCE Int. HQ
Westcott Venture Park
Westcott, Aylesbury,
Bucks, HP18 OXB, UK
44 (0)1296 658333
BALANCE Int. USA
PO Box 927
Jasper, GA 30143, USA
(706) 892-4261
---
Back to home page--Table of Contents
Article in sections with "thumbnail" photos for fastest downloads:
1 9 17
2 10 18
3 11 19
4 12 20
5 13 21
6 14 22
7 15 23
8 16 24
NAVICULAR
Article in sections with full-sized photos for print-outs:
1 9 17
2 10 18
3 11 19
4 12 20
5 13 21
6 14 22
7 15 23
8 16 24
NAVICULAR
To Strasser case studies--thumbnail photos for faster downloads
To Strasser case studies--large photos
Please sign my guest book! Photos of my pets My farm
Share Barefoot success stories on this page
Buy or sell used HORSE BOOTS Natural board Barn Listings

Click here to subscribe to naturalhorsetrim
(I strictly moderate this listserv to weed out "fluff.")
Send Email to Gretchen Fathauer, or call (740) 674-4492
---
Copyright by Gretchen Fathauer, 2015. All rights reserved.