Copied from the Columbus, Ohio Columbus Dispatch, a story of a horse so panicked by trailering that he began to break out of his trailer. We need to take seriously just how traumatic hauling can be!
While the owner speculated that a stinging insect was to blame, more often a horse is upset by abrupt moves driving, which are much harder for the horse to deal with when being hauled facing forwards. It does pay to check for wasp nests in your trailer before you load, though.
More links:
To see more on the many advantages of using rear-face trailers for horses, Click HERE
To see more on using barefoot trimming on chronic laminitis, Click HERE
navicular, Click HERE
humane tack/collection issues, Click HERE
---
Horse's escape attempt closes two lanes of I-270
Stinging insect may have caused problem
Monday, June 25, 2001 Michael Watiker / For The Dispatch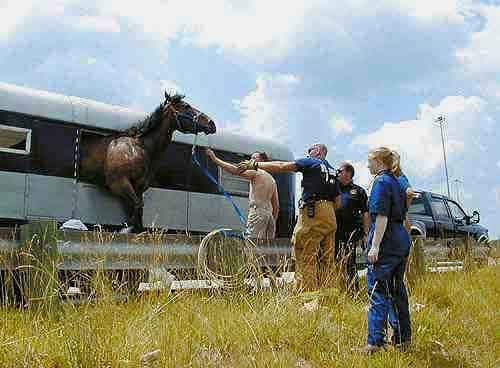 An equine escape gone awry caused an unusual highway rescue on the Far North Side yesterday afternoon. Laddy, 7, was thrashing wildly through the side door of a trailer traveling west on I-270 near I-71. "The horse literally was kicking the doors off the trailer,'' Columbus Fire Lt. Rick Cosmar said. Co-owner Jon Kane of 5175 Southminster Rd. was taking the pet to a farm in Marysville for his daughter, Alexis, 4, to ride. "We think it could have been a bee or wasp stung him, because he usually trailers well,'' Kane said. The horse was sedated before Columbus and Westerville firefighters, Columbus police, a veterinarian and students from Ohio State University freed the horse from the trailer. The incident temporarily closed two lanes of I-270 and left Laddy with a few scratches. Kane and the horse returned home after the incident.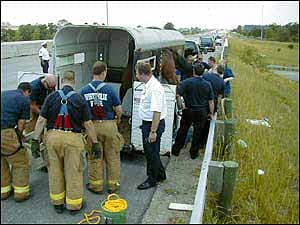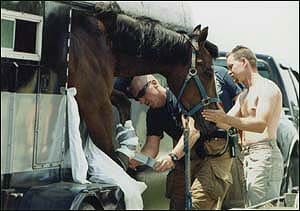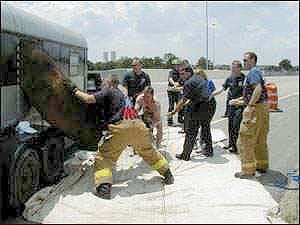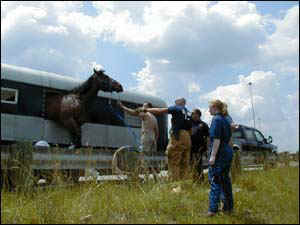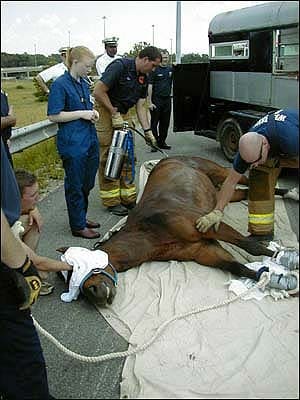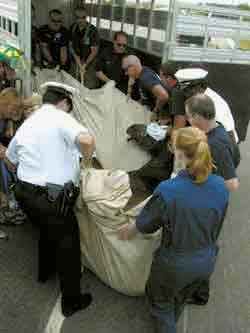 ---
A fuller version of this story from the http://www.firehouse.com/hotshots/photostories/2001/june/26_horse.html, which is a firefighters' web site.
---
PhotoStory
Ohio Firefighters Rescue Horse
Photos/Story by Michael D. Watiker
It is happy trails once again for a 7-year-old horse named Laddy, thanks to Columbus and Westerville, Ohio firefighters.
The horse tried to kick its way out of its trailer as it traveled along a busy Interstate-270 (I-270) in Columbus June 24.
The animal kicked the trailer doors so hard, that he almost knocked them off the trailer, causing it to flip, and trapping the horse inside.
The Columbus Fire Department's (FAO) Fire Alarm Office received a 911 call reporting a horse trapped in a trailer and that the animal was in distress.
A rescue assignment was dispatched consisting of Columbus Fire EMS 12, Lt. Rick Cozmar, (District EMS Officer) Columbus Medic 6 (S.Benjamin FF/IC) and mutual aid Rescue and Batt. 111 from the City of Westerville. Columbus Fire Safety Officer (SO2) Capt Murphy also responded. Lt Cozmar acted as the runs incident commander.
In addition Columbus Police Patrol, Freeway, and Mounted units were critical to the successful outcome. The accident caused Columbus Police to temporarily close down two westbound lanes of traffic on I-270 in north Columbus.
After arriving on the scene, a call was made for an emergency response for a veterinarian to respond to the incident and bring drugs to sedate the horse.
After Laddy was sedated, Columbus and Westerville firefighters, with the help of a veterinarian, Dr. Beard, and students from The Ohio State University College of Veterinary Medicine, freed the horse from the trailer.
Laddy's owner, Jon Kane of Columbus, and his 4-year-old daughter Alexis were taking the horse to a farm in Marysville, Ohio for his daughter to ride. Kane says he thought a bee or wasp must have stung the horse, because he "usually trailers well."
Fortunately, the horse was left with only a few scratches. "When most of our runs involve traumas and injuries to people, it's a nice change to be able to help this animal and the people involved escape without harm," said Columbus Fire Lt. Rick Cosmar.
The horse was transported in a Columbus Police Mounted unit horse trailer to the Equine Center at Ohio State University. The horse was given a clean bill of health and was treated and released later that day.
---
Dr. Sharon Cregier alerted me to this interesting photo of a trailer wreck on the Clemson University web site:
"Sometimes the safest approach to a rescue may involve righting an overturned trailer, with the animals still inside!! This MUST be done slowly and carefully, using the proper rigging to perform this maneuver in a controlled manor. Below, a horse trailer, for demonstration purposes, is turned on its side. Then the process was reversed, bringing the trailer upright again. The trailer was not scratched or damaged at all using this technique. Any animal inside would have been given a slow and steady ride with no further injuries."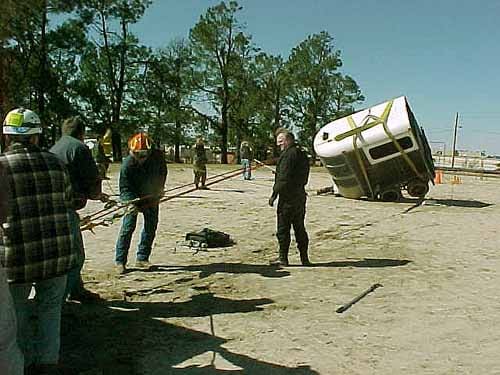 "Editorial: The Large Animal Rescue Training course covered much more material than one can see in these few photographs. This training was worth every minute, and much much more! The dedication and professionalism of the instructors ranked at the highest levels that this person has seen. It involved both practical and affordable techniques. It is hoped that this training can be sponsored everywhere in the United States and beyond. More information can be found at the Large Animal Rescue Training page at Clemson University by clicking on the link below."
Clemson University - Large Animal Rescue Training
www.hast.net
---
Back to home page--Table of Contents
Article in sections with "thumbnail" photos for fastest downloads:
1 9 17
2 10 18
3 11 19
4 12 20
5 13 21
6 14 22
7 15 23
8 16 24
NAVICULAR
Article in sections with full-sized photos for print-outs:
1 9 17
2 10 18
3 11 19
4 12 20
5 13 21
6 14 22
7 15 23
8 16 24
NAVICULAR
To Strasser case studies--thumbnail photos for faster downloads
To Strasser case studies--large photos
Please sign my guest book! Photos of my pets My farm
Share Barefoot success stories on this page
Buy or sell used HORSE BOOTS Natural board Barn Listings

Click here to subscribe to naturalhorsetrim
(I strictly moderate this listserv to weed out "fluff.")
Send Email to Gretchen Fathauer, or call (740) 674-4492
---
Copyright by Gretchen Fathauer, 2013. All rights reserved.