Lasodo, foundered Arabian stallion
(Click on photo thumbnails to see larger versions. Comments made by Darlene, Lasodo's owner, are in blue. Comments made by Anne "Tree" Coley, trimmer, are in green.) Comments made by Gretchen Fathauer in purple.
His web page, showing him competing in dressage earlier: http://www.genesisequestrian.com/Lasodo.html
---
I am very sorry to have to say that Anne "Tree" Coley passed away of pneumonia January 6, 2014. She merely thought she had a bad case of the flu, and did not get to the hospital soon enough.

Marilyn Gilligan, Nancy Filbert, and Anne "Tree" Coley
at a clinic Risa Couch hosted in 2006.
Tree was a tireless advocate for horses and barefoot trimming, and helped many people online, in addition to working on many horses. She was a good friend to both horses and their people. She was fun to be with, kind, and had a very practical approach to solving problems. It will always such a pleasure to talk with her. She will be sorely missed! Tributes have been pouring in for her on the naturalhorsetrim list and her facebook page.
A memorial service is planned for Anne on Saturday, Feb. 1, 2014, at 2:00 pm at Mount Moriah Calvert Church, 928 Calvert Rd., Brevard, NC. Everyone is invited to attend.
---
Darlene wrote me:
I ran across your website today in desperation to find more info. I have a wonderful older stallion who recently during our heat wave in July foundered. He has what you call corium prolapse and my farrier is wanting to resect the hoof. I am fearful as the other foot is abscessing and trying to blow out as well. The one with the corium prolapse is his primary weight bearing leg at this time. here is a photo.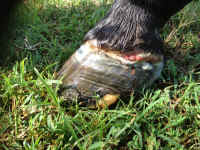 Bless you for so much info. I can send you the photos tomorrow plus the X-rays taken today. Both vets and farrier say euthanize. I do think the wall has detached some, but not real sure how much. Fear is the other foot is worse. More rotation on X-rays.
Thank you. I am willing to do anything at this point, but am not unrealistic. Just not ready to quit.
---
Update:
This is today and there is granular tissue forming. I am pretty sure much of the wall has separated, but most surely the rear portion is pinching. The plan with the vet and farrier yesterday was to resect that portion, but after X-rays they would not do anything. I will send other views separately since I am sending from phone.
Left Fore:
July 17, 2012 x-rays, left, and August 21, 2012 x-rays on right:
Right Fore:
July 17, 2012 x-rays, left, and August 21, 2012 x-rays on right:
Rotation is progressing in one month, despite orthopedic shoeing.
Latest photo, bottom right
Soles: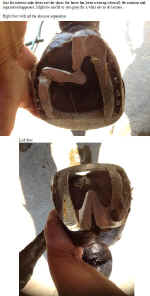 (I have to add the photos later taken right after the shoes were pulled—they're on my other computer… I thought I had uploaded the photos after the shoes were pulled, but must have uploaded the wrong MS Word file. Will fix this in a couple of days.)
---
Trim by Jennifer Vallieres on Aug. 27, 2012:
Jennifer Vallieres came today and pretty much just pulled his shoes. She did trim Lasodo's back feet and I will send photos tomorrow. All she did on the front feet was pull the shoes and lightly rasp the edges and did a mustang roll (?) around the edges. Nothing touched on the soles or anything.
She has abandoned the Strasser method saying it is way too radical. She did not want to take off any of the hoof wall below the abscess. It was late and I had to feed when she left so no time for photos. He is very uncomfortable now. He has been up and down several times. I am not yet alarmed as I figured getting out of the shoes might not feel the best to him.
She advised buying Easy Boot RX ASAP and getting him in them with their pads. Also recommended LaminaSaver supplement. She felt like the abscess was going to heal just fine. But how do I get him comfortable fast? Or how long should I expect him to be this sore? His left foot, the one which has the most rotation, is the most sore. Frankly we should have pulled the right shoe first since after pulling the left one he was very hard to get the right foot up.
She said once he was in the padded boots he should get some exercise.
Photos of Jennifer's trim on August 27, 2012:
---
Trim by "Tree" (Anne Coley) on Sept. 3, 2012:

Right fore:

Hinds:

Left Fore:
---
Tree reported he was more comfortable and acting better in her 9/4/12 post on the naturalhorsetrim list:
I don't think Darlene will mind me going ahead and posting about Lasodo's trim of yesterday. I'm too tired to download the photos I took, but will send them to her first and then she'll send them on to you, Gretchen, to be added to his file.

At any rate, the drive took around 5.5 hours and it wasn't long after arriving that I got started on his feet. Put simply, they were all basically full to the point of flat with a bit of convexity (if that's a word), in the worst rotated foot, the LF, just back of the stretched frog apex (tip). But that area of sole was not soft so perhaps he won't penetrate the sole after all.

He was quite sore on the LF so it was the easiest to begin trimming and I worked as quickly while getting the excess junk removed as possible. The LF has 2 issues, at the very least...rotation and contracted high heels, so while rebalancing the coffin bone is vital, I also made sure he had mechanism (heels expanding upon weight-bearing).

As far as trimming the rest of his feet I just had to take my cue from him and go for whichever foot he was resting at any given time and gradually got them all done. The hinds had been "let go" previously by the Farrier that had been doing him, but only because he felt Lasodo should be euthanized. He didn't think it necessary to work on hooves of a soon-to-be dead horse. And the Trimmer that pulled his shoes and performed a light trim last Monday (a week ago), didn't do a thorough trim of any of the feet, but it was a start towards his transition just coming out of the BANANA shoes. So there was loads of retained sole, excess bar, frog horn and a fairly even amount of wall to be removed. However, I stood the hinds up at a more correct steeper angle to what they had been and just knocked out the dead sole and trimmed accordingly without going to the extent of what had to be done to the fores. The hinds showed some stretched white line, but that was all....no contraction in the heels or bulbs!

With the RF having the blown out medial quarter hairline I took more off of that half of the hoof walls as it had been too high before. I also suggested leaving the protruding flesh uncovered so that the excretions could begin to harden and form new hoof wall. The toes of both fores were backed up considerably even though the LF toe was very passive to the ground once the heels were lowered. It reminded me of a box turtle's underside trapdoor angle when the turtle has retreated inside the shell. He'd been toe loading long enough to have formed his own bevel. It wasn't noticeable until after the heels were lowered. And, he was physically able to bear weight on the shortened heels!!!! So that was a very good thing...this condition hadn't existed long enough to cause his shoulder muscles to adapt.

Following the trim he was lead out of the barn to the dressage menage...which is fenced...and turned loose to roll or whatever. Well, it's located beside the broodmare pasture, so all the mares came up to see Lasodo and this got him walking....yes, WALKING. This is the most laidback stallion I've been around in a loooong time. So he wasn't in grave danger of overdoing it. The more he walked the better he moved, too. At first he was stepping well up under himself with the hinds much like a big lick TWH and hitting hard, but the arena footing is sand but not deep, so it was forgiving to his feet and provided just enough firmness and give and he began to engage less behind and stand up and stride out with the fores. :-)

This morning, I hung out until around so I got to watch Lasodo be put out in his paddock and he started off stiff and worked soon afterwards. Darlene is going to keep me updated on how he does from here on out, but so far, there's marked improvements to see already. No miracles to report, but of course, anything headed in the right direction is acceptable at this point...away from an early grave! It's a matter now of observation and waiting to see how the hooves
respond (growth-wise), to the trim.

I'm scheduled to return in 4 weeks.
---
In Tree's September 5, 2012 email to me:
I only could take lateral (and one medial) pics during the trim. I also just took afters as Darlene's previous photos were fine to use for before's after Jenny's visit.
At any rate, I've identified each photo on the actual image and can explain the reason for reducing the quarter scoop on the lateral half of the LF. He started showing increasing discomfort on the LF after having been okay and the thought crossed my mind to reduce the scoops to the quarters of that foot and see what his reaction would be and it proved to be far more comfortable so I left his quarters flatter...as you'll see.
I've asked Darlene to get sole views ASAP as he's been continuing to improve so it should be much easier for her to get those done and send them on to you.
But things went well. No miracles but there was slightly more improvement by the next day compared to immediately after the trim was done. :-) While I was driving home yesterday, Darlene called to tell me of more changes in Lasodo's behavior. It was positive!
He's a stallion and the gelding with the broodmares was challenging him while he was turned out in Darlene's dressage arena and Lasodo's reaction was to turn his butt to the arena fence and squat against it. He doesn't strike or kick...yet. LOL! So yesterday, when the same thing took place while Darlene had him turned out again, this time he actually CHARGED at the fencing...FORWARD movement vs. backwards. Hmmm, she said he's never done that before so it made me wonder if it was just another way he'd compensated for hoof issues.
Another thing I noticed while I was there was how he'd rest only one diagonal pair of feet. It was the LF and RH, but by yesterday, he was alternating and resting each diagonal pair of feet. And another thing he has been doing was to rest his head on something. When he was resting in his stall, he'd rest it on the sill of his stall window, so she'd put several blankets on it to give him a soft cushion to rest it on. He'd started to lose some hair along his jaw before. And while out in his paddock, he'd do the same while standing beside the fence by resting his head on the top rail. I figured he was trying to take weight off his forehand or maybe rest some neck muscles. Well, he was doing less of that by yesterday.
Another thing was he was beginning to stretch his front feet out in front of him and rock back onto the heels and stand with his hind feet more square rather than forward under his belly. So I believe he was finding his front heel regions to be more comfortable in addition to realizing he didn't need to continue to try to shift weight off his forehand as much as before. And while he's short striding when he begins to first move, he gradually works out of it. I attribute it to congestion in his feet and movement reducing it via circulation.
---
Darlene wrote 9-6:
I was able to find B-L pellets locally so I started him on them yesterday. I hope to wean him off bute in a week or so. He still needs some for comfort. I have ordered the Inflamma Saver.
Tree trimmed him more than I've seen a foot trimmed in several years. I was more than impressed. Day by day he is setting the left heel down more (the most rotated foot) and weighting it. I got some Vibram pads and put one in one of the Easy RX boots and that seems to really help. His right foot (the blow out) seems to do ok on my footing which is either firm, right now wet ground, and firm sand in the round pen and arena. He walked a lot more today on his own and stands fairly much square in front much of the time. I know bute is helping, but we both know it won't mask severe discomfort. He's only getting a gram am & pm.
After much effort, I was able to sign up on your Yahoo group. Gee, that was not easy, Yahoo insists on alias. Hope I don't forget who I am. As soon as I can, I am going to put side by side comparison photos together and send to you and Tree. Tomorrow I will get some photos of the bottoms of his feet where Tree trimmed him.
I don't know how I found you the day I did, but I thank God that I did and that you replied and reached out to help by sending me to Tree. Tree has been just what the doctor ordered. Yesterday, I was able to read some of your story of Max, while I was waiting to see the doctor. It was inspiring. Maybe, Lasodo can be another case study to show folks there is a better way and hope for the foundered horse.
Thank you and I will keep you posted. I just have been spending all my day watching and tending to Lasodo.
---
She sent on some more photos Sept. 7:
Right Fore:
Left Fore: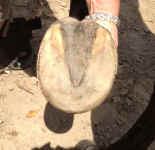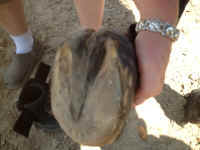 Some pictures from today. So far so good. Putting full weight on the left foot now and starting to relieve the right one some. Since there isn't a way to put a boot or pad on the right foot without covering the blow-out he is a tad bit protective on the gravelly spots he must cross. Luckily there isn't much of that and its small and we've had rain the last two days so the ground is soft. I am going to try to get x-rays next week for reference.
---
Tree's comments Sept. 8:
He will be ouchy on gravel until his walls can take over with the weight-bearing. For now the only wall in a position to do its job are the heels so the frogs and toe sole are having to lend a hand in providing Lasodo with a surface area to support his weight. Once a good strong laminar attachment has formed the quarter and toe walls will quit shirking their job and resume helping out the heels. This is why the toe sole isn't trimmed other than to level. The thickness he has is needed particularly now. The only areas that could be made passive were the bars and sole nearest them on out towards the quarters. But yes, dirt, sand, sod will be comfortable to him because it provides some cushion. And as you noticed about his deep stall bedding, it isn't as comfortable as what we humans would think, for his feet. For his body to lay on? That's no problem. It's just rough while standing in. Until his laminar attachments re-grow, semi-firm footing provides him with a supportive base. Hard lumpy footing will cause him to react much the same as how he reacts to gravel areas....ouchy.
Your bottom photo has the camera to sole surface angle we tend to like best but I'm glad you sent the others too. I can fwd them on to Gretchen so she can add them to Lasodo's case file.
Not sure if these are ideal but she's willing to take more if these aren't good enough.
His toe soles are making ground contact with both front feet but they have to until the walls regrow a laminar attachment. The heels are making contact but you can see how the bulbs of this foot (the LF), are kissing. Not so with the RF as that was his low angled foot and what I figured was likely taking on more of a load to compensate for the high and now most rotated LF foot.
I took the bars down and contoured the sole nearest them but left the toe soles level...a bit was rasped off of them for balance. I did trim the frogs but wasn't too concerned about the apex area as I figured I could tidy them up better once the coffin bone tips weren't resting on them anymore.
---
Sept. 9—Darlene:
Jenny came today to see Lasodo. Before I relate her comments, I'll let you in on why she abandoned the Strasser methods. She said she practiced Strasser faithfully for 2 years and said she would get foundered horses better, then they would hit a plateau. She said the sound horses wouldn't ever get enough sole. In her opinion, the Strasser methods keeps taking away sole. That what she means by it being "invasive." She then started studying, Jaime Jackson and Pete Ramey and found their methods less invasive, so started applying them. She says her success rate for full recovery with the foundered horses improved.
That said, the main comment was that she felt like Anne took way too much sole away from Lasodo. She did like how much the toes were backed up. She said that is mainly what she would have done as she felt like that would give him the most relief. Frankly, I can't figure out he would ever get his left heel down without some trimming, but she said backing up the toe would allow it to come down.
I asked her about hi/lo heels and she said, she used to try to make them match, but when she would return, that high heel would be back. No matter how many times she trims, the hi heel always returned so the thought process is you can't change the God-given conformation.
I am letting her work on a thin-walled TB mare of mine to see what develops. Time will tell. She is pretty much anti-shoe. Thinks if you need them, the boots are enough.
I stopped giving Lasodo bute yesterday after his urine came out brown again. Very anxious to hear from the vet about that. Thus far he lays down in his stall, but will stay up when outside. He walks well once he gets going. In a few moments of studly exuberance he trotted today. Actual trot steps. Hope he didn't overdo it. If I can keep him upright more than not, I am still ambitious. He does have to have the pads/boots though. He is most comfortable in the arena on the deeper sand. I have Inflamma Saver coming tomorrow. Had to make paste to get the B-L pellets in him. Won't have anything to do with supplements.
---
Darlene update on Sept. 11—Lasodo actually galloped briefly during turnout!
Well, I'd love to leave Lasodo out 24/7, but have not worked that out yet. Today, he had a weekend warrior moment, he decided he could gallop down the fence in a faux stallion fight with a gelding on the other side. Obviously, more than he could handle because, when I brought him in he laid down. He has a fairly strong pulse in both feet, but appears to be hurting more in the abscess foot. In order to avoid drugs, I out on a soaking boot with ice. Seems to be working since he's stayed up and went back to eating. Do you think he could have done any major damage with this burst of foolishness?
---
Update, September 21, 2012—Darlene wrote:
The Lamina Saver and Inflamma Saver have not yet produced the analgesic effects he needs, so I broke down and gave him Banamine again tonight. Right now I think the biggest issue is what looks like and must feel like a giant ingrown toenail. The right foot is really hurting him. I am sending photos for any advice I might undertake until you come again, Anne. it is clearly trying to heal but the hoof wall is titling inward and really pressing up into the foot. I feel like if he can get some relief on that foot, we'll be over a hurdle.
---
Because the swollen abscess exit on the RF (medial) was getting more swollen, and the upper wall appeared to be pinching in at the coronet band, it was decided a resection was needed.
I did warn that using bute and banamine together can promote ulcers.
---
On Sept. 21, Tree wrote:
I think you're right about the old quarter wall below the fleshy area of the abscess blow out. And you've taken some really good views of that foot as I think I see a way to deal with that area. I also see new horn forming...particularly back towards the heel of that same area AND periople along the rim of the flesh just below the hair bearing skin.
My thoughts, at this time, are that it's good that the blown quarter wall is still passive to the ground but I would imagine, and you can observe to see if it's the case, that when he's on the sand, that area of wall may make ground contact. Watch to see if it does. But what I think I can get away with doing is start to remove that portion of wall. Perhaps not completely but with the idea in mind to let it provide continued protection from the elements, I could try thinning it from the outside by using my grinder. Hopefully the word "grinder" doesn't alarm you. I use a side grinder with a zirconium flap disc which would actually sand off layers of outer wall. I would rather try that approach and get Lasodo's reaction (opinion) of how that would feel to him. And if it is necessary to completely resect (remove) that portion of wall, I can but better to not fire all of my bullets at once by taking it completely off to start with.
In the meantime, while I know he isn't comfortable, it does not appear to be preventing the new horn from forming above it. :-)
Any more efforts to have new x-rays made yet? Now if it means some Vet is going to want to shave off any flesh along that blowout, I can wait because that isn't what should be done at this point. It's growing new horn, ugly as it appears to be with that old horn seemingly so friggin' tight beneath it. That's not proud flesh and I'm afraid a Vet would think it is and want to debride it. No, no, noooooo! I repeat, it's already forming new horn and I'd hate for anyone to take it away. So, I can wait to have new x-rays made, if it will save you the trouble of being placed in a very awkward position with any Vets and Animal Rights groups.
And here's an idea...I could come on the 24th instead of Oct 1st, if you want. That would put me there a week earlier than planned, but say wait
at this point, it may not be such a bad idea. It's up to you so just let me know.
---
Sept. 24 resection:
LF
RF
September 25, 2012:
LF
RF
Sept. 24 x-rays showing more sole thickness developing in the toe area:
LF lat, RF d/p, RF lat.
---
Tree wrote on Sept. 26:
Darlene, you'll see that Lasodo had the little spot on the LF coronary band the day I trimmed him. I know you're keeping an eye on it and will let me know if it changes any but as you can see in the photos showing the lateral view of the LF, it remained unchanged from the day of the trim to the following day. I hope that is how it stays and that it may only have been a place I bumped while using the rasp. I looked for signs of rasp marks there and didn't see any though. And I hope you can take your previous sole views and find one of each front foot that shows close to the same camera angle as the ones I took to do a side by side comparison of the heel & bulb shapes. Even in as short as 3 weeks some de-contraction could've taken place....particularly with that LF foot with as much as he began to use/rely on it.
Gretchen, while the resection did result in bleeding, the amount lost paled compared to examples I've seen posted on horseshoes. But obviously blood has been reaching that part of the foot so I think you'll be relieved to know this. I know you had concerns over blood being restricted there.
Ok so here are the pics. Oh and I'll resend the photo showing a lateral view of the RH as I no longer saw it posted on Lasodo's file page. So just in case you no longer have it, here ya go. The text on the photo will clarify which photo it is, but so too will the lower image number.
Tree (Anne)
---

Darlene wrote Sept 26, 2012:
I am fine with sharing the photos.
Lasodo had a good night last night. Seemed to be up a lot more than down. He had bute last yesterday around 1:00 pm. I am holding off today to see when he decides to lay down. It's almost 10 am so I am trying to find out just how much pain help he needs. It is clear today the resection gave him the much needed relief. He's getting braver on it and the left.
I am glad we could do it sooner than later.
---
Tree wrote, Sept. 26, 2012:
Gretchen,
You've got my "A-OK" to post the photos I took so that just leaves Darlene's response...which will likely be a resounding yes, do it! :-)))))
I sent you the ones that best showed his feet. I had to cull a couple that were too blurred. So glad I took extras when normally I assume they're all crisp. My eyesight just isn't what it used to be....farsighted, but need reading glasses for things up close.
Tree (Anne)
---
Tree posted on the naturalhorsetrim list on Sept. 26:
--- In naturalhorsetrim@yahoogroups.com, "Erika Rehbock" <veijo.tilli@...>
wrote:
>
> Hi Tree,
>
> I have no experience with this. I just wonder, what a resection would
> do to the heel, would the heel collapse forward?

======================================

Hi Erika,

Hope that as we document this, it will help you and anyone else
(including myself), see either what to do or not to do when faced
with a case like this.

I've done some resections before, but none quite like this one, so I'm
basically in the same boat as you. As it turns out, though, the
resection didn't extend back to the heel bulb, but remained forward of
it. Of course it will remain to be seen how the intact medial heel
reacts to what was done.

> I think it is a
> different matter to resect toe wall, you can easily do that and have
> the horse walk on the heels, but quarter wall is different. You would
> have to keep a close eye on the heel, or keep shaping it correctly.

Yes, I think you're absolutely right about this being different than
dealing with detached toe wall. That is what I discovered while
working on the resection. Unlike a detached toe, the quarter wall
was snugged up tight and so once I began to penetrate the wall I was
met with live tissue. I was careful to recognize the layer of wall I
was dealing with. Lasodo's outer wall is dark gray/black and of
course you know you're getting close to tissue once you uncover the
water line layer of pigmentless (absolutely white) inner wall and get
it thin enough to begin to see pink to reddish coloration before
you've completely removed wall horn. And up at the tip top of the
involved wall would be the coronary groove marked by seeing the
lighter dots where the coronary papillae insert before you are
completely through it into coronary corium. I had to have my
stronger reading glasses on while working so closely on the foot so I
could see and refer to dissections and anatomy to know where I was
while removing the layers. Blood was minimal prior to the Vet
blocking the foot for me because we were working with a sober (no
pain meds), horse that could let you know when it was feeling
things.

One thing I think of with toe wall resections is the ease but also
the fact that there will have to be extra sole (more than the usual
live sole, that is), in place or a complete toe wall resection can go
badly due to the destabilization of the hoof capsule. With founder
cases involving already detached toe wall, once you've got the heels
and bars trimmed properly, the toe is relieved. If not, and the toe
wall is resected, it could go rather badly because the horse is still
pitched or seeking to load the toe more than the heels.

> You could have the horse weighting the opposite heel and have this
> heel grow faster and get too long fast. Couldn't you just do an
> exaggerated scoop, like you did, and have the owner keep it
> nonweightbearing? It should move down. Just a thought. I'm curious,
> what you decide to do. Looks like a big improvement so far. What a
> relief, that the horse got help!
>
> Erika

At the time of the first trim I did trim the RF medial quarter wall
passive to the ground. In one week things changed along the upper
portions of that same section of wall, causing discomfort, but I could
see, in Darlene's photos, that that lower wall was still passive. So
it didn't work to just do that. And with this recent trim, I rasped
that lower wall, mainly to take off the flare, but once the photos go
up, you will probably see where my rasp exposed stretched laminae.
So it is further weakened, but the resection was what provided
relief. I think that area of wall was just too restricting...putting
the squeeze on...a serious "muffin top", for lack of a better
descriptive term. LOL!

Now you bring up a very important point...that of how the horse loads
the heels. I watched Lasodo use/load his resected foot (RF) and
noticed that he was using that lateral side more than the medial side,
but not like he had before the resection. So he was actually taking
it easy on that medial heel and this may serve to prevent or reduce
the likelihood of collapsing that heel in addition to that side of
the foot. I think we've all seen photos (Gretchen has Inty's case on
her site), where collapse resulted following grooving. I will refer
back to what I'd said previously...a case of a horse overloading the
weakened and/or compromised section of hoof. We really have to keep
the least painful or compromised areas of hoof shaped for real
comfort...translate this to level of function.

Ok, here I go up on my soapbox! This is where Strasser's, IMO,
methods appear to go aggressive/invasive (pick your own adjective).
Conservative/conventional approaches would leave extra horn that will
cause painful pressures with the flawed thinking that it must be left
untouched. However, the mechanics behind this way of thinking, IMO,
is very skewed. More isn't necessarily better unless you're talking
being closer to achieving skeletal balance. But balance seems to be
the least considered over having more heel, bar and sole...pitching
the horse onto his already compromised toe! Strasser, IMO, realizes
the importance of balancing the coffin bone so the high heels, excess
bar, frog and sole (in the caudal region), will be trimmed to restore
balance and improve function. This, in turn, sets the hoof up for
healing.

> [Moderator--Tree emailed me and said that the resection did give the
> horse pain relief, and that the wall is passive to the ground.
> Apparently it will have to be maintained this way for quite a while
> until the new growth hits ground. A new x-ray was taken, which
> Darlene emailed us with, and there is beginning to be more sole
> thickness in the toe area. She says the vets were pleasantly
> surprised that the sole was getting thicker in the toe area--they
> probably assumed it would soon have sole penetration. The sole still
> will need more time to fill in more, but things are progressing in
> the right direction. Adjusting hoof form to get a more ground-
> parallel coffin bone is allowing the sole to grow better in the toe.]
>
> =====================================

I've emailed you to confirm the same, but yes, as you've already made
a corrective post, it was Darlene that gave the first report. Oh
BTW, WELCOME to the group DARLENE! Good to see you made it.

The Vet was gracious enough to even tell me he was impressed after
reviewing the images. He also had his assistant pull up the August
images to make a side by side comparison. I don't think he expected
things to look better or I don't think he'd have advised Darlene to
euthanize Lasodo. Under the circumstances it appeared to be the only
thing left to do. But he did make a positive comment about lowering
the heels!

Tree
---
September 28, 2012--Darlene wrote:
Lasodo continues to be extremely painful on the LF. Area over tendons in front of the superficial flexor tendon are swollen. Based on information below, I am thinking:
All signs are pointing to foot pain so I am thinking, tendon damage. He also resents flexing the the fetlock. Which I am going to take as a sign it hasn't completely ruptured. I am not sure what to do other than cold therapy at this point and maybe a very sturdy standing wrap. Any advice? Have you guys seen sort of a self-inflicted tenotomy?
I wrote:
Because you have reason to think he may have had an acute laminitis flare-up, an abscess is more likely. Swelling in this area before an abscess exits is not unusual. The earlier high-heeled shoeing was over-stressing the extensor tendon, not the flexor tendon. Tree did not lower heels and/or raise toes enough to position the coffin bone lower in the heel than the toe. Plus he has not been doing anything drastic enough to rip a tendon—he hasn't stepped into a groundhog hole while galloping, has he? Or fallen while galloping on uneven ground? He doesn't have shoes with calks on the hinds to bang into the LF flexor tendon while galloping, either. The slight weeping area you saw on the LF makes me think abscess, too; it may be getting ready to exit in this spot. I'd consider treating for an abscess ready to exit, rather than assume it is a tendon injury. Soaking, and keeping him walking, will speed up the resolution of an abscess. If you are already seeing a small weeping area, I think it could exit soon. Sometimes before an abscess exits out the coronet band, the horse is swollen enough to look like he has a bowed tendon. This will resolve once it exits.
I know the idea of another abscess exiting out the coronet band is not what you want to hear! But it's not as serious as a tendon injury.
I am thinking abscess on the LF, not tendon injury. It takes a LOT to tear a flexor tendon! He hasn't been doing what it takes to do that. The weepy spot on the LF is probably where it will exit. I just copied you with my response to her…
She's probably picturing an abscess exit as awful as the RF, though. Lots of soaking and walking will do more than tight bandages, which I don't think are a good idea. More soaking will soften up the exit area so it can come out quicker. Tight bandaging will make it more painful.
Many people who see a swelling like a bowed tendon on a leg right before an abscess exits out the coronet band assume it is a bowed tendon…which goes down after the abscess exits.
An abscess in the LF makes sense; it is foundered worse than the RF. Of course, it is easy for us to casually talk about abscesses from our armchairs when we aren't the ones down in the barn with a sore horse!
---
September 29, 2012--Darlene wrote:
Very good comparison. The right foot is certainly improved in the X-rays.
Now if we can just figure out what's going on with the left. He is still not weight bearing. Soaking doesn't hurt anything. Can't really say if he's any better today. Dave seems to think he is brighter eyed. Still only will stay up about 20-30 minutes between laying down. Plan on wrapping it tonight and letting him wear the easy boot with a little wedge pad.
A friend highly recommended Clean Trax medicated abscess soaking solution. I've used it before once and abscess was already draining but not when one is still closed. Any opinion?
Tree wrote:
If I'm not mistaken, Clean Trax is a form of chlorine bleach used in pools and I don't believe there is anything going on with Lasodo's foot that would require the use of it. The ACV and water mixture is adequate. Most folks are using Clean Trax (Pete recommends it), for the treatment of thrush. I've not known anyone to use it for any other purpose in hooves. Lasodo's hooves are not thrushy nor does he have a yeast infection, whiteline disease or other fungus. Abscesses need to run their course so there's no need to use something like Clean Trax to treat one. Poultices would better serve to draw out the abscess and soaking to encourage it to move along quicker too.
Here is a link I found which explains the purposes of Clean Trax. There's no mention of abscesses in the info. It's not necessary to treat abscesses once they are draining.
http://prostores2.carrierzone.com/servlet/equinepodiatrynet/Detail?no=3
I will work on putting together a comparison of the LF foot, but of course it'll only be the lateral view x-rays as we didn't need a DP for it this time.
The wedge pad might enable him to load the foot in that it will break up hoof mechanism...overload the toe and reduce load to the heels. Now you will have to observe him tomorrow and see how he uses that foot, if he will, with the wedge in place. We can probably get away with creating a high heel imbalance long enough to see if you've got an abscess brewing but keep in mind that while his foot is out of balance, you'll run the risk of possibly over stressing any newly forming toe wall laminar connections...which would be a small amount, if any, at this point in the rehab process. But if he will load the foot it may serve to speed along the abscess.
Now I thought you'd said something about getting the Vet out to check for the ligament or tendon injury. Have you done this yet or are you waiting to see about things before making the appointment? I would imagine that in order to know if Lasodo has a tissue injury, it would require an ultrasound to determine it, correct?
I should have the LF comp ready soon and will send it off.
---
September 30, 2012:
There is beginning to be evidence of abscess drainage out the LF heels.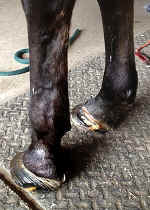 LF heels. Not wanting to fully weight LF heel. Darlene is wondering if there is tendon damage rather than just an abscess getting ready to drain involved in the LF pain, stiffness, and some swelling. However, this can be the sign of an abscess ready to exit, too.
Darlene's comments, 9-29 and 9-30:
After soaking today I saw this. I was able to mash around and get some drainage about the consistency of smlall curd cottage cheese. No odor at all. I put a damp lintex poultice on it tonight. Cross your fingers and hope this is the source of pain. He didn't mind me pressing on it.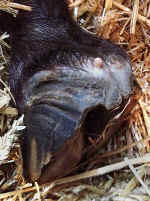 (Left Fore)
RF--abscess exit starting to look better.
I think it looks good. The foot looks good and healthy. [RF]
Re boots and heel pad:
The Easy boot is the RX model which is a fairly loose boot. The 'wedge' is nothing more than a piece of the original homemade pad I started with. The medium density foam garden kneeling pad. If he's not loading the heel because of the tendon then it might be good for a week or so. It's soft so it should cause any major disruption.
Yesterday, I soaked as much as possible. And applied an ice boot to LF. By bedtime he seemed some better. Then did a sturdy standing wrap for the night. He got up more last night than the last three nights. Plus he ate more last night. So pick which therapy helped the most.
I do plan to have ultrasound to rule out tendon.
Interestingly the bulbs of the LF were really soft after the soaking and Lasodo continues to lick on them.
Today, I am going to soak again and ice the LF leg and wrap. Until I can safely rule out tendon, I am going to limit his movement. He doesn't want to move any way.
Tree wrote:
If he's still favoring that foot I would guestimate a week after it drains out before he shows improved soundness on it and I'd explained why in my previous email.
I should think you can rule out the tendon as injured and also any ligaments. It looks like you have an abscess beginning to erupt. I know you will continue to keep an eye on this as it goes. Soaking should continue.
I didn't see anything to comment on concerning his RF resection site. Let me know if seems to bother him again. I'm hoping I took enough to give him long lasting relief as the new hoof grows out above it. I could see more growth towards the front half of that fleshy area. With the next trim I'll probably need to adjust his foot for the new abscess (LF).
Glad his appetite is better. He needs his strength so don't feel bad about having to cater to his needs when it comes down to pain management.
Anne
---
Oct. 1:
Darlene wrote:
I agree that it looks like good healing. I keep it covered to keep it fly free and clean, but not so much that it is wet or weepy. [referring to Right Fore]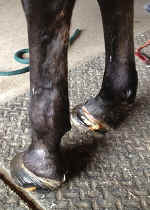 This is what I have this morning. Not any drainage to speak of mostly, weepy.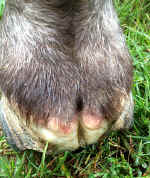 (Left fore)
He is, however, offering to bear a little weight and not waving it in the air.
Soak or poultice pad is the question?
Tree wrote:
You're probably wondering if he is going to lose the hoof capsule on that foot. I don't think so. I think he's just blown a solar abscess out his bulbs, and not uncommon with a rehab of this sort.
---
Oct. 2, 2012:
Darlene wrote:
He insisted on coming out. Practically put his own halter on. Lots of rain today so he got some grazing time in between showers.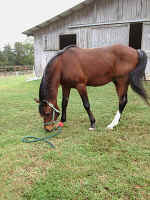 In general abscesses don't scare me. Seen a lot of the over the years. The RF blowout was pretty scary, but I am optimistic that it's on the mend.
Tomorrow if the sun will come out, I will get some new picts of it. I was looking at the last photos and would like to compare.
Definitely more drainage today. Hopefully it will resolve soon and he will get more relief.
I soaked a good long time and it does seem to help. Must be the elasticity of the softer hoof capsule. I am still not completely ruling out some tendon issue--there is something about the way he lifts and flexes the LF that keeps making me suspicious. I don't think I need a vet to tell me to wrap and restrict movement. I am careful while walking him, so he is getting good outside time. But limited on doing something silly again.
---
Oct. 3, 2012:
RF starting to heal, and LF where abscess is exiting.
---
October 6, 2012:
(I had predicted that the RF abscess exit would both reduce in swelling and heal from the ends in towards the center, based on past experience. Apparently that's what is happening here...)
Darlene wrote:
Photos from this morning. I am greatly encouraged by the healing in the RF. I left it uncovered last night and am wondering if you guys think it would be OK to continue leaving it exposed? Or if I should cover it for turnout but uncover for night time in stall. It is not producing much in terms of seepage and quite dry. I think back to how my half-Arab's mare foot looked when she cut it so bad and know this, too, can heal. Just wondering if and/or how much growth deviation it will have. NO doubt now the resection was needed!!!!! Many thanks to you, Tree.
Tree wrote:
Yes, the RF medial quarter hairline is showing more new growth. (happy dance!!!) You can certainly try leaving the RF uncovered but I'd continue to soak the LF and make use of the ACV water mixture as the soaking solution. Interesting how the outside bulb is so deep red...something like a blood blister but that's just what it reminds me of and I don't know that that is what it actually is. But since he seems to like it better when you've been soaking it, follow his lead and continue to do so. I'll look forward to seeing what that foot needs by the time of the next trim. He should have some new growth beneath the abscessed portion of bulbs by then. If it starts to bother him, I may have to consider resecting portions of the heel area with that foot but I don't anticipate having to need the Vet's assistance when this appears to be detached. We'll see but of course I will trim what needs to be removed, as in excess horn from growth, and let Lasodo test his foot to see if it feels okay to him or not and go accordingly.
I think we were all on the same page when it came to the decision to resect the RF medial quarter wall. We all agreed that it had the look of causing problems and of course, Lasodo's behavior showed how he felt about it. :-)
Thanks for sending the pics. I'm really pleased with Lasodo's progress!!! Keep up the good work, Darlene!!!
LF heel bulbs abscess exit (left), and 2 views of inside RF abscess exit.
---
Tree posted 10/7/2012 on the naturalhorsetrim list:
Perhaps some news about Lasodo would be of some help.

I'd thought I'd made a post telling about my 2nd visit to see Lasodo
and his owner, Darlene, but it may have been a case of me thinking
about doing so, but never actually doing it.

At any rate, it's interesting how things can work out for the best
and by that I mean the timing of the Vet's arrival. It wasn't until
after I'd finished trimming his feet and had all but the last sliver
of horn to remove from the resected portion of RF medial quarter
wall. It was so close to live tissue at that point that each attempt
to get that last bit resulted in Lasodo jerking the foot.

It wasn't long before the Vet pulled up and made the x-rays (laterals
of each front and a D/P of the RF). The images revealed an
impressive amount of de-rotation and the Vet felt there was also more
sole thickness as well, but since the August x-rays were taken with
the rocker shoes still on the feet, I have a feeling the actual sole
depth was hidden from view because I know that sole does not grow
that fast. So my thrill was to see how much de-rotation had
occurred! And while the Vet was there, we talked about what could be
done in order to finish up the resection...as in remove the thin
sliver of horn beneath the fleshy area. Darlene okay'd the block to
be done so that Lasodo would have no feeling, temporarily, of that
foot, and the Vet even assisted me by wiping the blood away.

I was expecting the abscessed portion of quarter wall to be detached,
but there was no dry pocket beneath the portion of wall I was
removing. I can only speculate that it was because the wall was
either so tightly squeezed inward that it preserved the live tissues
there.

I performed this trim on a Monday, but by Wednesday Lasodo had become
increasingly lame on his LF. So while the RF issue was addressed now,
the LF was being favored again. Turns out he was brewing a solar
abscess that eventually began to drain out of both bulbs. Until then
Darlene was afraid he'd pulled the DDF tendon or torn a ligament.
Continued soaking is helping to ease Lasodo's discomfort in addition
to the medication(s) Darlene gives him. Rehabilitations can be such
a roller-coaster ride for owners and trimmers alike!

The most recent photos Darlene has sent show more growth occurring
above the resection and separation of the old contracted heels of the
LF foot from the bulbs.

Tree
---
Oct. 8, 2012:

Darlene wrote:

For what its worth, I've slept pretty well the last week. Its a relief to see Lasodo not in agony. Obviously, there is still a lot of recovery to endure but at least it appears he is at a manageable comfort level. Hopefully, every day bring us closer to wellness. I am looking forward to the next trim so I can have educated eyes on his feet again.

I wish you all could tell me a way to move this LF abscess along. It just seems stagnant. Not producing much in terms of drainage. I try to keep Lasodo outside as much as I can so he moves around as much as he can. Gave up on arena lately since he's bored silly up there with nothing to eat other than hay in the one corner. Ground is not hard as we've has rain, so he's going in paddock. I can keep an eye on him there as well as he has horses closer.

Any ideas on getting that LF to progress let me know!

I wrote:

Walking and soaking to move the abscess along.

How is he moving and feeling?

Tree wrote:

I hope the worst is over with now with the recent abscesses. It's not to say there won't be other abscess events but milder ones compared to what he's blown out so far.
---
October 9, 2012:
Darlene wrote:
I've been doing as much of both. How long at a time should he wear the soaking boot? He generally stays up an hour to two hours or slightly more then lays down for a short time. Of course then all the soaking solution runs out. I put more in but only do it once a day. He was better walking yesterday after being out. He is still very cautious of putting much weight on the LF. I still think there is some either tendon or arthritic issue as well since he flinches when I flex that fetlock putting on and taking off the boot. Not as much, though. Would that Clean Trax abscess treatment help at all?
His heel bulbs are about to actually separate from touching each other. I just didn't realize how much they were contracted.
Overall he is feeling better. He'd like it most if he could just be turned out where there is grass to eat all day. Too bad we can't plant him some kind of low starch grass in his own paddock. Eating grass is his most favorite pastime.
On the naturalhorsetrim list, Tree posted in response to Ellen congratulating her on Lasodo's prgress:
If it hadn't been for Darlene, Lasodo's owner, none of this would
have taken place. She'd been told she should put Lasodo down by both
her Vet and Farrier, but her gut feeling said not to give up just
yet. She found this site and Gretchen made the referral for me. And
I had been looking at the photos and thinking of offering to help.
So it all came together. :-)

I didn't mention it, but Darlene asked her Vet if he'd heard of
Strasser and all he said was, "Yes". That was it, but he wasn't
hesitant to let us all know how impressed he was with the coffin bone
positions. So unless he thinks we were just lucky this time, perhaps
he will take more of an interest in what is being done. ;-)

What this horse had going for it was enough coffin bone mass in each
front foot. Once I met this horse in person, I could see he had a
lot more going for him aside from bone structure. He's got a devoted
owner who loves him dearly and she has a supportive husband. Lasodo
is also in great shape for his age!

We'll all continue to do the best we can to see this rehab through.
(Actually, Darlene found the naturalhorsetrim.com site first, and joined the email list later.)
Cheryl Henderson of ABC Hoofcare wrote:
I usually lurk, but saw how this case mirrors Angela who is active with
the http://www.forloveofthehorse.com an herbal remedy company. She has
a series of fantastic pictures of the developing healing and how the
prolapse of the coronary shrunk and what the hoof looked like
afterwards.

I have a video, but it is so high speed you just see quick clips. This
is a series of the developing tissue.

This horse Snickers had an immune problem and foundered in this hoof.
He has about 1/3 of the coffin bone left. He lives by the ocean and
runs daily, bucking and tearing around in joyful glee. He does have to
wear hoof boots because of all the coffin bone damage but wow...he is a
beautiful mover. Hope the video shows him. I put it in the files
because of the video format.
[Unfortunately, the file wouldn't load. Stay tuned...I will put it up here if we can it to work.]
---
Oct. 15, 2012--LF heel bulbs are spreading...
Darlene wrote:
Something I see now is the as the heels are trying to spread he's getting a 'muffin top' look on that foot. Don't know if the photo shows that well enough. I'll try another angle to see if I can show it better.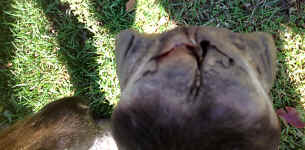 Tree wrote:
Yes, I saw (what you mean), previously so that's why I said that it looked like the newer foot will be wider. But I don't believe this is going to require a trim sooner than the 22nd to deal with like what needed to be done to relieve the medial quarter of the RF foot. I think he can wait with the LF changes, but I know you'll be in touch if it looks like something ought to be done sooner than then.
Looks good to me and by next Monday, there should be a brand new frog in place so that removal of the old one can be done without any trouble. Shouldn't need the Vet there as the old horn and frog appears to be separated. But it does look as thought the newer heels and frog will be wider than the old tight contracted parts! Definitely good!!!
---
Oct. 22, 2012--3rd trim
Tree wrote on the naturalhorsetrim list:
Made another trip to TN to trim Lasodo's feet, and what a treat with
all of the Fall foliage to see along the way there.

Lasodo spends more time up now than laying down, and as hoped, I was
able to remove portions of the LF foot that had become detached
during the solar abscess that blew out both heel bulbs. The newly
formed replacement horn was firmly established and hardy enough to be
uncovered and exposed. This basically meant everything from the frog
apex on back to both heels. The remaining forward portions of sole
will stay until it either wears off on its own or at the time of the
next trim.

With the LF trimmed it was wonderful to see the heels expanding as he
loaded that foot (mechanism)!!!! I made opening cuts to set a
temporary heel out beyond his contracted ones and hoped this would
also alleviate any potential problems that the old attached quarter
walls might cause as the new heels and rearward quarter wall grow
out. I'd like the trim to last as long as possible to help keep
expenses down for Darlene.

Lasodo had no problem standing on the LF foot while I trimmed his RF,
and once those were each done, it was easier for him to hold up each
hind for a more thorough trim than the previous visit.

Following the trim we took him out to the arena and waited to see
what he'd do. And since we were needing to leave to see yet another
founder case, I encouraged Lasodo to move down the long side and he
gave me a very nice working walk both ways. I noticed he didn't
hesitate to swing his RF out fully, but was still a bit tentative with
the LF, but even so, it landed heel first, and that was good to see.

I've yet to download the pics I took, and Darlene took some as well,
so we'll get those to you, Gretchen, so you can add them to Lasodo's
page.
Photos taken on Oct. 23, one day after the 3rd trim:
Fores, showing heel bulbs. First photo compares LF heel bulbs Oct. 2 and Oct. 23.
Fores, lateral views
LF Sole, and RF Sole
Hinds
Tree's comments:
I've finally gotten around to downloading the photos I took. The only view I neglected to get was of the RF medial side showing how nicely the old blown out quarter looks. I will email Darlene and ask if she would get a photo of that foot from that side.
I'm really pleased with the progress made thus far. I know Darlene is, too.
---
Photos, Nov. 15, 2012:
Tree wrote:
Here are the pics Darlene just sent to me showing the front feet. I'll be going back to TN next Monday and will take more after I trim him. And you will notice, in her message, there'll be yet another horse to see with rotation.
Darlene wrote:
I had to sequester Lasodo to the round pen today because he was trotting up and down the fence flirting with the girls today.
You can see the very tops of the walls where the new growth has come in are much more tightly attached:
The earlier prolapsed corium has made great progress healing. It's so great Darlene didn't give up earlier!
---
November 20, 2012--4th trim
Fores
Left Fore
Right Fore
---
January 7, 2013--5th trim
Left Fore lateral--before, after--and sole (after)
Right Fore--lateral (before), medial (before)--and sole (after).
(Unfortunately, we don't have a RF medial or lateral after, but the sole view is after the trim.)
Left Hind (after) and Right Hind (after).
---
February 20, 2013--6th trim

Tree wrote:

Hey Gretchen,


This is Tree at Darlene's and we just got Lasado's x-rays. We were in a hurry to get him to the Vet for the appointment so I did a quick trim to balance the heels so you can see the coffin bone is slightly negative, but thrilled to see both bones are equally oriented now.

X-rays, heels re-balanced, but otherwise "Befores"--

(Left Fore, Right Fore)

Left Fore--lateral view, Before and After:

Left Fore--medial and sole views, After:

Right Fore--lateral view, Before and After:

Right Fore--medial view Before, and sole view, After:
---
Composite X-ray studies Tree did in February, 2013, showing changes over several months:
Left fore, Right fore
Tree posted on the naturalhorsetrim list, March 15, 2013:
Hi Erika,
I would rather folks get to the point vs dilly dally around it so
your response is ok by me. :-)
> Well I would chop off the unnecessary toe lump. Then you have the
> true length of the sole and find the true apex of the frog easily
> (though I believe you would find it anyway) because it is not, where
> it appears to be, more like 2/3 of the lenght. And then I would put a
> little concavity just in front of it. But it is amazing, how that toe
> wall has been able to grow even without it.
I've had to go with my gut while trimming Lasodo's feet (and the x-
rays) in addition to Lasodo's reactions and amazingly enough, the
deformed toe walls have been a non-issue by leaving them. I've been
backing them up but early on the LF toe was really rockered once the
heels were shortened. The RF toe was only slightly passive since it
was less rotated. I believe that because the toes are passive it can
explain how they have not influenced the new growth but then again,
while the new growth follows a tighter line it still isn't parallel
to the coffin bone dorsal plane yet. It'll likely take a 2nd
complete hoof growth to achieve that but will remain to be seen.
You are right about the apex of the frog being stretched. I left it
be due to that area of sole being quite thin. With the most recent x-
rays it's obvious that that area of sole has been building up so
there'd be little danger to tidying up the frog apex more but I was
aware that it was stretched. The sole views don't clearly show the
passive toe so it just looks like one really oblong distorted shape.
Then you see the laterals and how turned up (rockered) the LF toe
is (shows in the x-ray too).
> The contraction of the LF worries me. Maybe more scoop would help.
> Try to get the sole to look like one piece all around the (true) tip
> of the frog. Now it looks like two parts, the trimmed part in the
> back of the foot, and the untrimmed part in the front which rigidly
> keeps everything from moving and expanding. If you think of the sole
> as one sheet, it can't move in the trimmed part, if the untrimmed
> part has a grip on it.
>
> Don't mean to be blunt, just can't think of a politer way to say
> this ;)
> Erika
The LF had been quite contracted in the beginning and following the
first trim Lasodo formed a sole abscess which exited out the bulbs.
The new foot was considerably less contracted (refer to the photos on
his page). During the first trim I did scoop the quarters of the LF
and at first Lasodo liked it (settled well into the heels) but before
I finished the trim on that hoof he started becoming less comfortable
until after I dropped the heels a tad more...which removed the
quarter scoop. I got the impression that attempting to counter so
much at one time was more than he could handle. But with the abscess
that followed, it was clear that enough had been done to get the ball
rolling towards correcting the issues of that foot.
I'm not overly
concerned with the amount of contraction that can be
seen in the most recent sole pic of the LF nor the amount of toe sole
that I've left level to the wall because at this time (refer to the
lateral views of the LF), there is no wall grown down to take over
the supporting role yet. I should diagram a lateral view to further
explain my choice to leave that toe sole level with the active wall.
The heels still expand though so the active toe sole has not caused
the heel region to be rigid. Lasodo strides out with a heel first
landing when walking and trotting so this further prevents me from
becoming concerned about the contraction. If he were showing signs
of heel pain issues then there'd be cause for concern and action
required to remedy it.
The x-rays show that the coffin bones aren't matching. The LF has a
steeper dorsal plane angle than the RF coffin bone and the LF is
smaller or more compact when compared to the RF coffin bone.
I am so looking forward to
when the outward appearances of these
feet take on a more normal look but I'm in no rush to force it. I was
already forced to perform a resection when I'd hoped it wouldn't be
necessary. The hoof itself and Lasodo's behavior dictated otherwise.
So while it may seem I would rather argue against toe lump removal,
that isn't the case at all. I am having to go with the results how
Lasodo feels about things. I would've liked to have backed the RF
toe more in Feb but was only able to do what Lasodo allowed.
Mechanically speaking,
I've got his coffin bones balanced. We've
gained more sole beneath the coffin bones BUT, they still sit low in
the hoof capsules (distal descent). The LF foot is less contracted
than when I first started working on it. The new growth is tighter
than before but still has room to become tighter still (so that it
will parallel the coffin bone dorsal surface).
This is a process and
it'll take the time it takes with all things
considered. :-) He's becoming a real pain around the barnyard in
that he is getting into trouble...stuff he wasn't known for in the
past. Darlene now wonders how long he may have been dealing with
levels of hoof pain all along. She's talked about getting some video
of him while he's turned out. I would love for you all to see him
moving. Like I'd mentioned in another post...this horse does not
move in a way you'd expect after seeing his front feet!
Tree
Lasodo, March 15, 2013--challenging the gray gelding on the other side of the fence.
---
April 3, 2013
LF before, Fores before from several angles
Fores after trim, from several angles
After trim--RF sole, LF Sole
Tree wrote on April 9:
He was slower before this trim, and then we watched him move
afterwards, and he was more relaxed again.

I'll now be traveling to TN every 4 weeks so the next trip will be on
the 29th. This should help with not only Lasodo, but 2 other founder
cases as well. I met with and trimmed a new founder case this last
time. Thankfully the new horse was already heading down the right
track with a local Trimmer. The first one tried was ultra-conservative
...seemed to be expecting the hooves to fix themselves. The second
Trimmer did more, but was still leaving bars in a condition to get in
the way, but the horse was in far better shape than what I'd
anticipated. So now I've ramped up the rehab process some more.

Lasodo's frog tips in the front feet are definitely stretched and I'm
reasonably sure where they truly end. The LF foot has a trench-like
groove that extends from the true frog apex to the breakover that can
be seen in the photo showing the fores from the front. The stretched
portions of frog will be trimmed away as I get to it until, like the
toe lumps, they are finally trimmed off. :-)

I'm looking forward to further changes with the next growth
phase...like, a tighter toe attachment in both front hooves as well
as the RF heels standing up at a slightly more steep angle. They
were following such a weak angle in the beginning and still aren't
caught up to the LF heels, for angle, but are much improved over the
long and low conditions of before.
---
May 15, 2013
Before trim--front view, LF lateral, RF lateral
After trim--LF lateral, and sole
After trim--RF medial, sole, and lateral
Tree wrote on the naturalhorsetrim list:

> But there was a small toe wall abscess had opened up before my
> arrival and had drained leaving a crack of less than 1 inch so quite
> small compared to the medial quarter wall abscess last year. He was
> favoring his LF, but could fully weight it during the trim and suspect
> it could also be a toe wall abscess brewing. Haven't heard if one
> blew out or not yet.
>
> His feet were moist enough to be able to perform the trim using
> manual tools only and he was comfortable to allow rasping of his toes
> during the finish work.
Tree posted on June 11:

Lasodo's level of soundness improves with hoof boots. X-rays were
going to be made, but when she tried to schedule an appointment the
Vet was out of town on vacation. No word yet if efforts are to get
new x-rays before my next visit (June 24th) or if we'll just wait
until immediately after the trim is done.
---
July 16, 2013
Before Trim:
After Trim:
RF ( views) and LF lateral
LF sole, and RF sole
---
Update, early February, 2015--
Lasodo was still hanging in there. A photo taken in January, 2015: